Day 27
Roasting marshmallows over a crackling Vizio.
---
Day 26
Elf Kong
---
Day 25
Piggy-backing.
---
Day 24
Cheerios
---
Day 23
Horse
---
Day 22
Romeo and Juliet or Rapunzel?
---
Day 21
All wrapped up
---
Day 20
Candy Canes
---
Day 19
Looks like someone got a little crazy with the stickers.
---
Day 18
As Mads said, "He's making Tic Tacs!!"
---
Day 17
Being a big kid.
---
Day 16
Bubble bath.
---
Day 15
Texas Hold'em with his Dr. Suess friends.
The Grinch thought he had it with his high pair...
But little did he know, Christopher had the royal on the flop!
---
Day14
Locked himself out!
---
Day 13
Sliding.
---
Day 12
Messing around with the dress-up trunk.
---
Day 11
Decorating with snowflakes
---
Day 10
Since I had to work, today was Jeffrey's day to hide the elf.
In a hamster ball? That's silly, we don't have a hamster.
Oh really. First of all, I hope Jeffrey (or Christopher) plan to take care of that little guy. And second, Jeffrey isn't allowed to hide the elf anymore.
Madelynn named him Sprout. I have to admit, he's pretty darn cute. He's in a fish tank though, poor little rodent. It's hard to tell if Sprout is a gift for Mads, or for the cat. Wic hasn't left the playroom since the hamster's arrival.
---
Day 9
Reading
---
Day 8
Snow angels in powdered sugar, and an extremely long conversation about it.
Tea party with Pinky-Bear.
Playing video games.
And coloring.
I have to leave for work soon so our elf had to do all of his hiding pretty early today. He started first thing in the morning by bringing
Mads
new toothbrushes and leaving her a love note on the mirror.
Then he disappeared again while she was watching
Shrek
with Daddy. It turns out Santa sent an elf with quite the shoe fetish.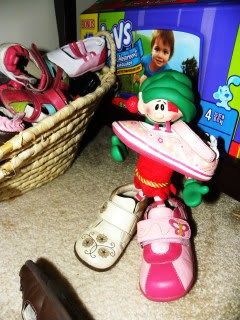 I think he tried on every pair, because they were scattered the whole way across the room.
Mads
ripped off her shoes and took him back to his shelf.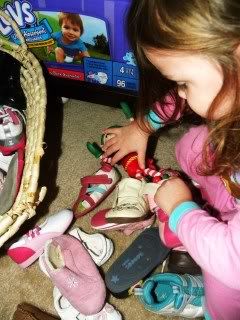 "Bad boy! Those are my shoes!!" I think Christopher pissed her off this time. Oops.
While
Mads
was in the playroom coloring Mickey, I noticed that our elf had gone missing. I asked her if she had seen him and she ran to the shelf. He wasn't there. It didn't take her long to find him though.
He was fishing by the snack cupboard!
Madelynn
said, "He fishing, Mommy! He caught one!! Silly boy. He goes up on the shelf." I think she understands a lot more than I give her credit for.
Christopher is back on his shelf, until tomorrow.
---
Welcome Elf
Our version of Elf on a Shelf:
Every year after Thanksgiving, Santa sends an elf to watch over the children. This elf (Christopher) returns to the North Pole every night to report our good deeds to Santa. He comes back while we're sleeping, and we have to find him in the morning. Sometimes he brings small gifts or a note from Santa, sometimes he's hiding and more often than not, he gets into a little mischief! On Christmas Eve, he will make his final return to the North Pole, and then he won't be back until next year.
Christopher the elf showed up this morning!
We read his book (three times) and then he went up on the shelf to watch for the day.
I don't know if it was Christopher's eyes burning into the back of Madelynn's head or if she was just in a really good mood, but she played awesome with Evelynn all morning.
Maybe Christopher will stay on the shelf until Mads goes to bed, or maybe he'll move when she isn't looking...
Mads is pretty clueless so far. She knows there's an elf, she knows it's sitting on the shelf and she knows tomorrow is significant for some reason. I'm hoping that after a few days of finding him every morning, she'll come to look forward to it and be excited to hunt for him. Even if she doesn't, I have TONS of ideas for hiding Christopher, so I'm going to have a blast regardless!